Safe Haven is a digital inheritance blockchain platform that aims to protect and transfer the inheritable digital assets in a transparent and secure way without locking the owner out.
Introduction
Earlier this year, the cryptocurrency market passed $700 billion in total mark cap and received a tremendous surge in public interest. People have different goals when it comes to crypto investment, whether it is to establish financial independence or simply have some savings for their family. The ultimate goal is to build and protect your wealth for you and your family's future. Security is the top concern due to the rising threat of crypto hacks, costing victims millions of dollars every year. Therefore, most digital assets are secured behind dozens of passwords, private keys, or seeds. The most common way to protect those seeds is to write them down and keep them offline.
But what would happen to these assets if something happened to you? The thought of how your crypto assets can be inherited may have once crossed your mind. Unfortunately, there are many cases where people were unable to hand over their digital assets or provide adequate instructions for their loved ones to access them.
Safe Haven is designed to solve this real-world problem by guaranteeing a safe and secure passage of those keys/seeds to the rightful inheritors in the event of the owner's death.
Overview of Safe Haven ICO
Token Symbol: SHA
Number of Tokens: 85,000,000
Mining algorithm: token is not mined but runs on the Ethereum network.
Token standard: ERC20
Type of cryptocurrency: Token
Website: https://safehaven.io
Whitepaper: https://safehaven.io/files/SafeHaven_WhitePaper.pdf
Telegram: https://t.me/safehavenio
Platform/Product
Safe Haven proposes to build a platform that can handle the inheritance and protection of your crypto assets without locking you out. To be clear, Safe Haven will not directly transfer the fund to your rightful inheritors. Instead, they will utilize FC Share Distribution Key, Escrow Protocol, and the Trust Alliance Network (TAN) to encrypt and decrypt the private keys into shares which can be distributed among your family/friends in a transparent and secure manner. Shares can be seen as a piece of a puzzle and users are required to solve the puzzle with all of their shares in order to retrieve the private key after being validated by an assigned legal entity.
The protocol is broken down into 3 steps:
The user who wants to protect his crypto assets needs to plan out The Family Circle (TFC), which is a group of members that will receive shares of the private keys. They then go to a registered member of TAN, a group of legal entities, to process the necessary validation steps.
The legal entity, who is preferred as a validator, divides the data (keys) into a number of shares. Those shares are then distributed by the specially designed TFC Share Distribution Protocol. The obtained shares of stakeholders are managed as a legal certificate by a notary and/or a hardware ledger. Some of the owner's shares will be encrypted and sent to a decentralized blockchain in a form of Smart Contract to protect. By not keeping data in memory nor local/centralized databases, overall security is improved. Also, since the key is not completely stored in one place, it can never be compromised, and the owner has full control of their assets while they are still alive.
The keys can only be retrieved when certain conditions are met. In the normal case, it requires a combination of all individual shares to reconstruct the key. For example, in case of a sudden death, legal documents are required to present to a member of Safe Haven's Trust Alliance to be validated. Once the legal entity gives a necessary authorization as verified by Safe Haven, the missing shares will be retrieved from the blockchain. Users can also send some shares to the blockchain as a separate "backup" smart contract. These shares are called "fail-safe" share, which is used in case one of the rightful heirs lose his/her share.

The white-paper also includes further mathematical and technical details of the platform as well as other applications for business, investment circles, and vaults. For more of these technical details, we kindly refer you to the the white-paper: https://safehaven.io/files/SafeHaven_WhitePaper.pdf.
Safe Haven Token Utility
Last but not least, the token is designed to fuel the whole ecosystem, acting as a service payment for the creation and execution of the 3 main smart contract types (just like gas fuels Ethereum smart contracts and transactions): Fail Safe Share(s) Contracts, Validator Share(s) Contracts and Backup Validator Share(s) Contracts. There are two types of users who need to hold tokens: standard users ("Initiators") and Legal Entities. Users are required to keep the tokens in Safe Haven's Smart Contract wallet to use the inheritance feature. Legal entities are required to lock more tokens for 365 days than a standard user in order to be part of TAN. The locked tokens will decrease the circulating supply which helps the value of SHA to appreciate.
The SafeHaven team is also currently working on their own blockchain and a staking solution to reward token holders.
Opportunities
A unique concept addressing a real and urgent pain with the inheritance of digital assets (not only in cryptocurrency space, but also all kinds of other online accounts with passwords people might acquire in their lifetime)
The service's mass adoption goes hand-in-hand with the adoption rate of crypto
The process involves a legal entity to ensure proper delegation of assets, making the process more reliable and transparent.
The tokens have a clear utility with locking and staking feature which can benefit the token value
B2B potential (legal entities, exchange partnership, businesses, etc)
Concerns
The project is still in early stages of the development (no platform prototype quite yet)
Issues with inheritance law depending on the country
The service is not completely decentralized, anonymous or autonomous since only some shares are kept on the blockchain – the rest is in the form of legal certificates which are kept by the notary or distributed to other people off-chain. The team is working to integrate a hardware ledger into their protocol though. There may still be a risk of losing part of the shares and this might threaten the retrieval of the private keys or passwords, even with the availability of backup shares.
Competition
There are two main competitors in this space and these are Digipulse and MyWish. The former is the first blockchain-based inheritance service, however, it offers a universal Smart Vault for all inheritance data from cryptocurrencies to social media profiles up to 1GB data. Digipulse is responsible to handle the protection and distribution of the funds to the rightful inheritors.
MyWish is considered an indirect competitor of Safe Haven. They enable the creation of various Smart Contracts, not only "Will Contracts". They already have a working platform and over 700 users. Both platforms are different from Safe Haven since they are responsible to handle the protection and distribution of the funds directly to the rightful inheritors. In contrast, Safe Haven is a full inheritance service dedicated to handling keys/seeds/passphrases for the rightful inheritors. Their unique selling point is partitioned and encrypted inheritable seeds/private keys, coupled with legal entities. The platform holds no funds, but only part of the private key so users can keep full control over it.
Each of these projects have their own advantages, and it is up to users to decide whether they prefer a complete decentralized platform with an automatic process, or a partly decentralized service with legal entities. For fund management, the latter seems to be gaining more interest. However, nothing restricts current platforms from incorporating with legal bodies in the future. For an in-depth competitors comparison chart, please refer to the graphic below.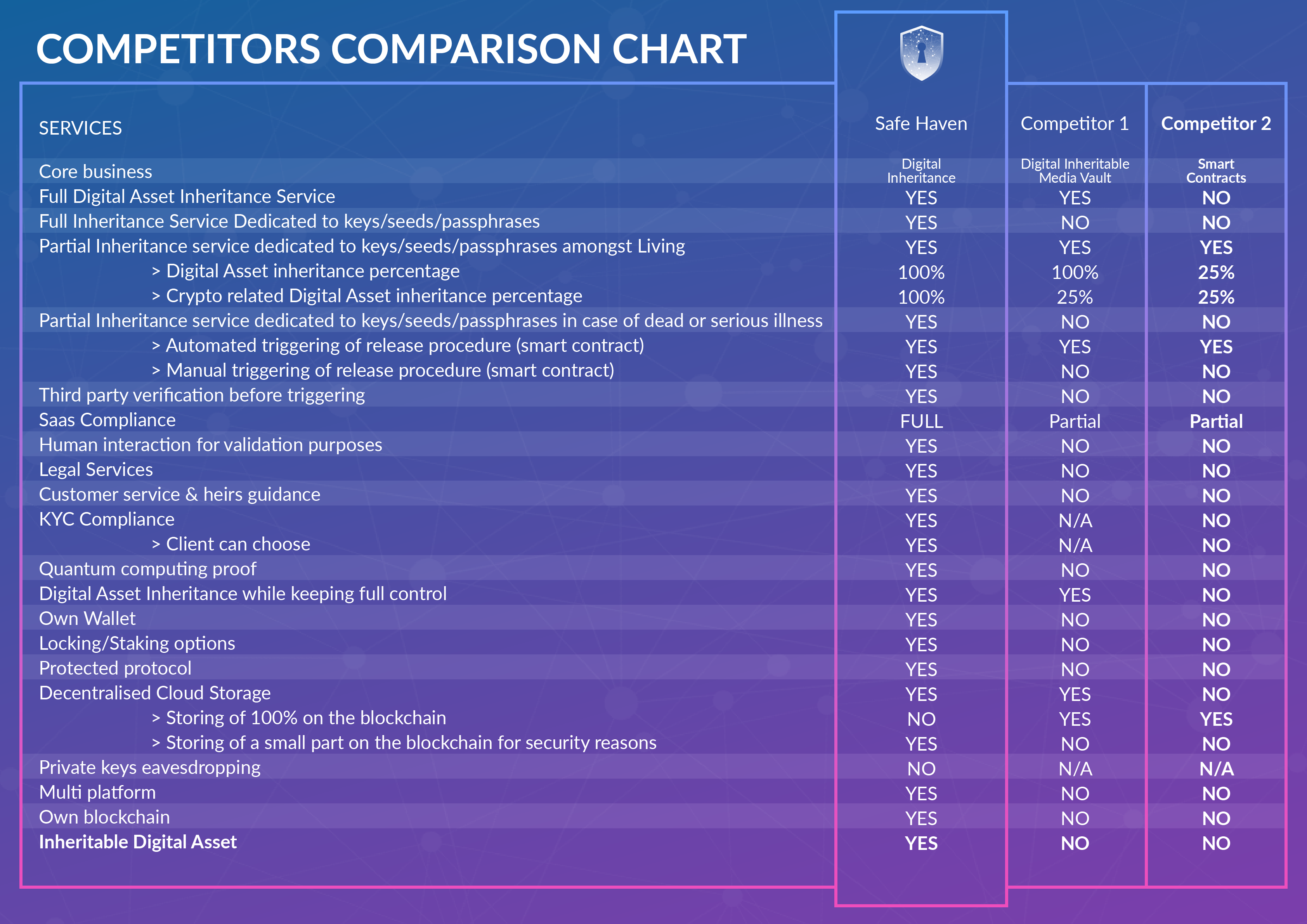 This competitors chart can be found on their website, however, Safe Haven does not specifically indicate who those competitors are. At this point, we can only assume that they are the two other inheritance platforms within the space.
Progress & Roadmap
Safe Haven is in the early phase of their development. Q3 & Q4 2017 was basically a starting point for this project from Idea Reflection to creating SD Protocols, White paper, Front-end development, and pre-sale launch. The roadmap is pretty straightforward, the team will focus on developing the platform and expanding the Alliance Program in 2018.
Q1 – 2018: ICO Launch, Platform development, Alliance Program Expansion, Offline client
Q2 – 2018: Beta launch, Alliance Program Expansion
Q3 – 2018: Platform Production Launch, Alliance Program expansion, Hardware Ledger integration program launch
Safe Haven Token Sale details
Presale: Ended. Started on Dec. 10th, 2017
Pre-ICO: Feb. 24th – Mar. 10th, 2018
ICO: TBA
Tokens for sale: 51,000,000 (60% of total supply)
Exchange Rates:
PRE-SALE (Tier 1): 2,500 SHA = 1ETH
PRE-ICO (Tier 2): 2,000 SHA = 1 ETH or 2,000 SHA = 1,000 USD (if ETH > $1000)
ICO (Tier 3): 1,500 SHA= 1 ETH
Soft Cap: 3,000 ETH ~ 4,000,000 USD
Hard Cap: 25,000,000 USD ~ 19,000 ETH
Vesting period for team: 12 months
Presale or white list: Presale began on December 10, 2017. KYC required for ICO and whitelist will be required. No information about ICO dates yet
Team
The Safe Haven team consists of 9 people. The bios of key team members are listed below:
Jürgen Schouppe, Founder/Developer – Over 10-years experience in developing and network security for the European Parliament in Brussels.
Logino Dujardin, Co-Founder / Account Manager – Entrepreneur & passionate about Account Managing. With years of experience in a multinational environment. He has worked as Account Manager for telecommunication companies including Proximus and Orange in Belgium
Andy Demeulemeester, Co-Founder / Software Architect – A crypto enthusiast & developer for Safe Haven. He has worked as Software Developer for software companies in Belgium and founded a website/software design company. He used to work for Lidl, Accent, Orbo Labels, Photonics and CRM group.
Andrew Magdy Kamal, Blockchain Architect – Andrew has been involved in the crypto-space since 2011, and is creator and founder of WeCrypto.net and MQTCrypto.com. His expertise relies on hash protocols, distributed computing and mathematical physics. He has also invented many products and has worked independently with private companies as well as winning a series of international science, startup, development, and pitch competitions.
Overall, the team covers most of the positions needed to be able to deliver the project including an IT specialist, lawyer, marketing expert, and blockchain technology specialist. Advisory team includes Jeff and Shashwat Gupta from Altcoin Buzz, and others who mostly focus on driving the marketing aspect of the project.
Conclusion
In general, the project idea is quite unique and comes at the right time to solve the urgent need for digital and crypto inheritance. This market doesn't have many players yet and with the growing adoption of cryptocurrency, the demand for it will be unquestionably high. Another good aspect is to involve legal entities into the validation process, which adds credibility to the system and could give users peace of mind. However, the whole project (website, whitepaper, social media presence, etc) is still in a very early stage and is in need of more detail and refinement.
Hard cap is around $25,000,000 for 60% distributed tokens meaning they expect their market cap to be valued at $42,000,000, which is considered a small-size token sale. However, when comparing with the similar projects such as Digipulse ($18,298,719 for only 1.4M circulating coins @ $13.05) or MyWish ($33,076,140 for 17.8M coins @ $1.85) with ICO finished last year, the hard cap target is higher than the main competing projects. Digipulse ICO only sold for approximately 12% of 12M token, leaving a small circulating supply, hence the value appreciated tremendously. Unsold tokens will be burnt, leaving a limited token supply, which in turn will also leave room for potential future price appreciation.
Also, please be sure to check out our video review of the Safe Haven ICO on our YouTube channel:
Also Read: Nano (RaiBlocks) Review – Zero Fee, Instant Transaction Digital Currency

Disclaimer:
This article was written to the best of our knowledge with the information available to us. We do not guarantee that every bit of information is completely accurate or up-to-date. Please use this information as a complement to your own research. Nothing we write in any of our articles is intended as investment advice nor as an endorsement to buy/sell/hold anything. Cryptocurrency investments are inherently risky so you should never invest more than you can afford to lose.
Disclosure - Sponsored Content:
We are a professional site that sometimes receives compensation from companies/organizations to review their products or services. This article is sponsored content as such: it may be a sponsored article, contain a mentioning of one of our sponsors and/or advertisers and/or the page may contain affiliate or referral links, meaning in that case at no additional cost to you, we will receive a commission if you click through such link and make a purchase. We are independently owned and the opinions expressed here are our own.
Have questions? Ask in our group!